Welcome to Museum Display Cases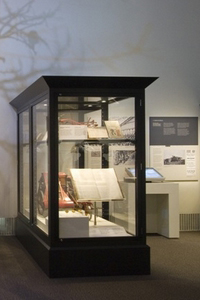 For the past 30 years, we have manufactured Museum Display Cases, Glass showcases and cabinets for a great number of satisfied clients.
Our outstanding quality, unbeatable prices and service make us the "go to" manufacturer of high quality glass display cases for museums, galleries, collectors, retail shops, sports arenas, universities and Fortune 500 companies.
We design, (custom) build, and deliver our museum display cases anywhere in the USA and Canada within 3 weeks. Our standard catalog display case designs are often delivered within to our customers within only 2 weeks.
As a current and active member of the Associations of Museums in the USA and CANADA and with four factory locations in place to delivery high quality museum display cases anywhere in North America within 3 weeks, it becomes easy to understand why our company is the leading manufacture of museum quality display cases. Our factory locations are ideally located to service our customers extremely well and in a timely manner. Our first factory opened in Toronto Canada in 1986 and from this location we began building the company that we have today. Additional manufacturing locations in Miami Florida, Laredo Texas and Los Angeles gave us the ability to design and manufacture the highest quality museum display cases at a much lower price point compared to our competitors.
Many of our glass display cabinets were installed in museums and galleries all over the USA and CANADA to display priceless treasures and art affects from private, public and corporate collections. They trusted Museum Display Cases North America to protect and display these valuable pieces in the best glass display cases available and always within budget.
Our state of the art factories gives us the ability to offer options such as UV protect glass, iron free glass, alarms, high security locks, special LED lighting fixtures, push to open drawers, close drawers, fully adjustable glass shelves and hidden casters.
Museum Display Cases North America is a company that can literally manufacture all of its glass display case designs in pretty much any size or color and we also have an incredible and highly qualified network of contacts to assist in the delivery and installation of these beautiful glass display cases.
One of our representatives will arrange a phone call or video conference where we can discuss your requirement and we can explain the design and work process. Ones we have received all the information we need our team will start the design process (FREE OF CHARGE). Upon approval of the final design and quote, will we start building these amazing glass display cases.
Call us today at (877) 954-3324 if you are interested in viewing our museum display case catalogs.